NEWS & EVENTS
4FUN regulatory workshop, Paris, France
A 2-day regulatory workshop was held on the 26th and 27th of March 2015, aimed at

regulators and regulatory specialists in order to demonstrate the principles and capability of the tool and to showcase its application to specific case studies related to the transfer of contaminants in water, air, soil and biota systems, as well as in the human body

.

The brought together 17 regulators from across Europe to learn about MERLIN-Expo and to gain hands-on experience. The group studied the case of pollution in the Venice lagoon, as well as examples of human internal exposure modelling and a comprehensive uncertainty / sensitivity analysis. The overwhelming response was that MERLIN-Expo showed great potential as a higher-tier exposure tool in a range of situations. There was a strong level of enthusiasm that the tool should be maintained into the long-term.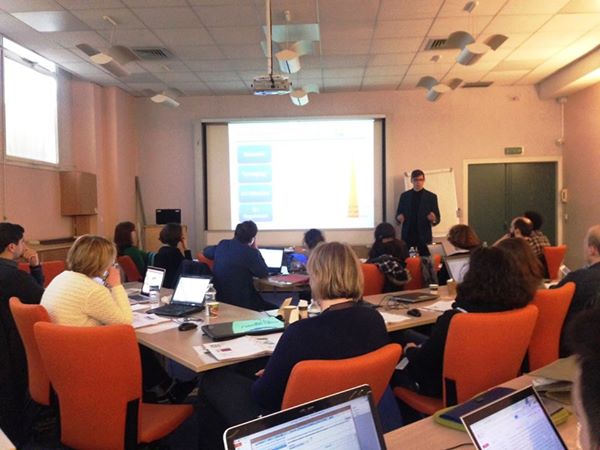 SEARCH
NEWS & EVENTS
4FUN workshop in Belgrade, Serbia

A 2-day day workshop was run in Belgrade on the 20th and 21st April. The workshop was aimed at environmental scientists, government ministries and...

2nd press release via CORDIS Wire

A press release entitled "New CEN Workshop "Merlin-Expo" in Brussels on July 2" was published via CORDIS Wire.  It presents  the Kick-O...

1st press release via CORDIS Wire

A press release entitled "Assessing human exposure to chemicals" was published via CORDIS Wire.  It describes the 4FUN project and the M...

During the 4FUN 3rd Consortium Meeting, which took place in Barcelona on 3rd-5th February 2014, a decision was made on the name of the standardised software.  It was decide...

The 3rd Consortium Meeting was held in Barcelona (Spain), on 3rd – 5th February 2014.

The 2nd Consortium Meeting took place in Milan (Italy), on 8th-10th July 2013.

The 4FUN project was launched during the kick-off meeting, which was held in Brussels (Belgium), on the 11th – 12th November 2012.  The participants ga...
NEWSLETTER
FIND US